Ken J. McLeod & Mike Swayne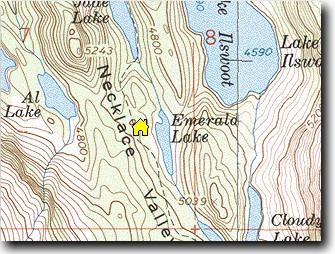 Ever wondered about the history of the Necklace Valley Cabin? Here are a few historical tidbits collected from Trail Blazer members. Click on the above map for a larger more detailed map of the area surround the cabin.
(Note: The cabin can be found in the Alpine Lakes Wilderness on USGS Quad "Big Snow Mountain".)
Dedicated to Jack Streeter
Trevor Fisher
June 23, 2020
John "Jack" Seymour Streeter was born on Sep 30, 1912 to Guy Joseph Streeter and Florence Spoon Streeter in Seattle; lived in Monroe, WA with his parents in 1920, 1930 and 1940 censuses; went to UW; worked as a postman in Monroe (Snohomish County); joined the U.S. Navy in WWII as an aviation ordnance man 1c; served on the USS Hancock; was killed by anti-aircraft fire while attacking the Itami airfield near Kobe, Japan in a bomber on July 30, 1945; and was interred at Ft. Snelling National Cemetery in Minneapolis, MN on Feb 14, 1950.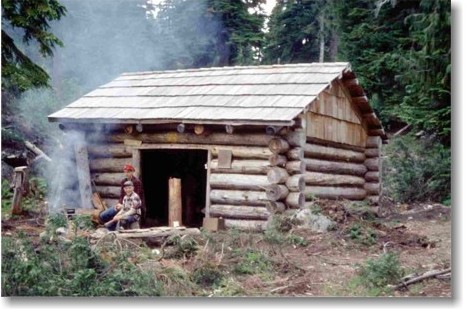 Notes
December 5, 1999
In 1949 the Trail Blazers raised $700, through member donations, members soliciting donations, and a dance, to have the Forest Service build the Necklace Valley Cabin. The first cabin was started in a location that was buried in an avalanche and it had to be rebuilt in another location. Construction was completed in 1951. Trail Blazer members were not happy about how much time it took to build the cabin nor the cost of it. It ended up costing over $800 plus the cost of a horse collar so they contributed some additional money.
Some members suggested that the cabin be dedicated to Charlie Yadon who was active in the Mountain Cabin Memorial Assciation along with Con Mattson. Charlie did not think this was appropriate and declined. It was then suggested that the cabin be dedicated to Mrs. Streeter's son Jack who had recently been killed during the War. Jack Rollo, member of Trail Blazers, remembers the dedication very well and still laughs at the members who used their knives cutting steps in the steep snow going up LaBohn Gap. He also remembers the Streeter family of the Monroe area as he once worked for the Forest Service in Skykomish.
Don Ihlenfeldt said that Ome Daiber, who gave the dedication, seemed to know Jack Streeter very well, and he choked up as he talked during the dedication. The minutes of the Trail Blazers show that Jack Brandmeir made a motion to have the Streeter family flown over the valley during the dedication. At any rate, the cabin was to be dedicated to a WWII vet killed in action. On another note but related, the Trail Blazer Nordrum Lake Cabin was dedicated to fellow member Bill Simon who was killed in action during WWII.
Notes
Clare Carlson
January 11, 2015
Not only did I fly Mrs. Streeter over the dedication, but I arranged for a section of Grumann F6F Hellcats to do a fly over during the dedication ceremony.
Notes
Richard Lear
March, 25, 2015
Geraldine "Gerry" (Streeter) Oden was the sister of Jack Streeter for whom the memorial cabin at Emerald Lake, in Necklace Valley was dedicated. Jack Streeter was in the Navy (not Air Force) and flew off carriers. Jack was killed right at the end of WW II. The cabin was built and dedicated in memory of Jack by the Mountain Cabin Memorial Association and the Trail Blazers in 1950. Gerry (Streeter) Oden passed away December 03, 2014 at the age of 104 in Virginia. Gerry was close friends of Ome & Matie Daiber and Jim & Lucy Barrow. She and Jack both hiked and skied with them in the 30s.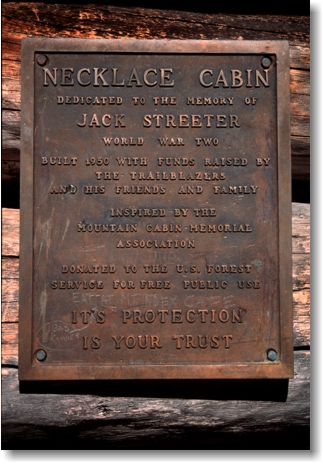 Notes
March 21, 2000
Am finally getting somewhere regarding Jack Streeter. I just had a great conversation with Lucy Borrow the wife of Jim Borrow an active climber back in the good old days. Jim made the first ascent of Liberty Ridge with Ome Daiber and Arnie Campell in 1935. Lucy is now in a retirement home but she went on a lot of hikes and climbs with Jim, including the Necklace Valley cabin dedication and remembers it very well. She says the Mountain Cabin Memorial Association was driven mainly by members of the Mountain Troop who trained in this area during the war.
Lucy says that Jack Streeter was from Monroe. He attended the UW and then was a postman in Snohomish. He went on some easy climbs with the Mountaineers like Mount Daniels (Hank Hoff may have known him). He joined the Air Force [sic] and was a bomber over Japan that was hit right at the end of the war. The war ended and then a few days later the family got word that Jack had been lost. It caused a lot of grief for the family and friends and made local papers. Lucy knows the remaining sister who is 90 years old and said she would try to get copies of the news articles for me.
Lucy had a great story to tell about Jim taking her to climb Dome Peak on their Honeymoon in 1940. There was no trail up Bachelor Creek in those days. They named the little lake they camped on Lucile Lake. I told her that we made the 4th ascent on Liberty Ridge, had done a route on the wall, had climbed Dome Peak and the Trail Blazers stocked the little lake they camped on near dome (Cub Lake). She wanted to know what time of the year we climbed Liberty because Jim and Ome had a difficult time on it in Sept. I said we did it early in the year (July) and that conditions were good. Trail Blazers Don Ihlenfeldt and John Nitzinger were also on the 4th ascent climb, which is now recognized as one of the classic climbs in North America.
Lucy was aware of the Trail Blazers but not sure what they did. She thought they did some horse packing (she must have been thinking of Jack McKail). Lucy and her husband were a little bit renegrades like we were. She said the Mountaineers trips were generally too easy and had too many people, so they went with Mountaineers on their own trips. I talked about how some guys we climbed with were part of the Beat Generation, and she laughed and said she knew all about that. Lucy and Jim were members of the American Alpine Club and were a great help to Ome after he lost his legs. Climbing mountains must have done something for Lucy, because she sounded very strong and her memory of events 50-60 years ago was remarkable.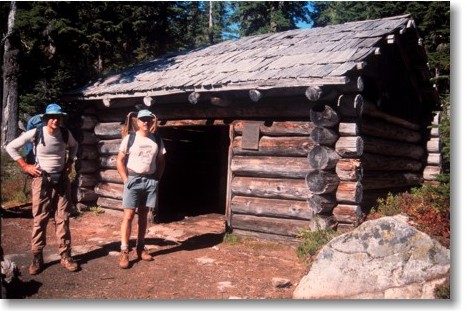 High Camps of Necklace Valley Alpine Lakes
Ken J. McLeod
July 29 - August 2, 1968
We began our hike into the alpine lakes at the trailhead parking lot at 3:00 pm exactly. There were only a few cars in the lot. Wasting no time, we started up the East Fork Foss River Trail, only encountering a few day hikers. My pal Greg Relf and I had taken 5 days off from work for another "High Camps" vacation into the wilds. And it felt great to be going in the hills and mountains again where there would be no phones, bells, radios, city noise, etc. Our only entertainment would be the grandeur of the mountains and the fishing in the high lakes which lay 9 miles up the trail . . . beautiful Necklace Valley. We arrived at Jade Lake a little after 8:00 pm in the evening and very tired as our packs were pretty heavy loaded mostly with canned goods. We set up camp near the inlet and made a fire in the rock pit fireplace found there, for cooking. A camp fire was our only source for cooking as we carried no stove. After the quick evening meal, out came our fishing rods for some late trout fishing. We did not fish too long though before darkness engulfed us. Later, under a star-bright night, we rolled our sleeping bags out on the ground next to the fire for the night. Morning came all too soon, and the mosquitoes began their assault on us. They attacked us from every angle showing us no mercy whatsoever! Fighting them throughout the day while fishing was more bearable than sitting around camp, so off we went. Our luck of fishing was pretty good catching fourteen cutthroats (small ones 8 - 10 inches) on mostly flies, Some were kept for eating. Later in the day, we packed up and headed up the valley and scouted out Emerald and Opal Lakes, then we traversed over to ILswoot Lake. At ILswoot Lake, a very big glacier-colored lake, we made another camp and another fire for the cooking, and to drive away the biting bugs. The fishing here was real good catching eleven cutts 9 to 11 inches and some seen larger . . . a 6 pounder at least swimming near the outlet. Later spent the night covered up in sleeping bags, we had no tent only a tarp in case of rain. At times, we did wish we had had a fancy bug proof tent though, for in the morning we counted 29 mosquito bites on one of Greg's hands. Camp was broke later in the day and we headed up and over the hump to the main valley, where we encountered a log "memorial" shelter. There, we took retreat from the heat and had some lunch while we examined the shelter. From there, we hiked the way path over to Al's Lake, where the fishing rods came out again. We caught several nice fat cutts 13 to 14 inches. The trout appeared to be Montana Black Spot or MBS type, different from the other two lakes. The mosquitoes here were worse however and I had to bring out the cigars and cigarettes to keep them off my face. Onward to Locket Lake . . . Locket Lake was another big lake. We set up camp near the inlet stream. Here, the mountain ravens were carrying on about the lake and high cliffs above. We went for a few swims to cool off, Fishing was pretty good catching sixteen rainbows on flies, with Greg catching about the same, some on spinners too. We kept some for eating again. We stayed here at Locket for two nights and then left on the 5th day. During the trip, we had 85 and 90 degree heat and no clouds in the sky. We encountered no other people (fishermen or hikers) during our stay at the lakes, it was enchanting!
note: The Alpine Lakes Wilderness was established in 1976, 8 years after our trip into Necklace Valley. Prior to the establishment of the wilderness area, there were very few permits required nor any trail-park passes needed. It was no fad going into the high country and there were no crowds, few if any as I remember. Our camp fires were used for cooking and they were only made with dead (downed) wood. The food we consumed was either fresh or canned, mostly consisting of fried trout and potatoes. The mountains were ours to explore with few restrictions, a freedom back then we most certainly took for granted, not knowing just exactly how lucky we had it. And you could go anyway if you had a "buck or two" in your pocket, as gasoline was only 25 to 30 cents a gallon. Yes, an era long since past, but not forgotten..........