This year the Trail Blazers hope to offer a qualified student a $1,000 one-time scholarship. The 2017 scholarship is being offered in the memory of members Bob Pfeifer and Henry Mills.
To be considered for the scholarship, students must complete the 2017 Scholarship Application. The Trail Blazers are most interested in assisting students who seek a career that will enhance the management of wilderness, natural resources and fisheries science in Washington State's mountains. Deadline for submission is May 15, 2017. Applicants will be judged on the criteria of scholarship, leadership, integrity and other personal achievements. Preference will be given to applicants who demonstrate an interest in pursuing a career that involves professional work in Washington's high country. For example, the candidate might be pursuing professional studies in fisheries science, forestry, entomology, wildlife services, geology, botany, wilderness recreation or a related field. Applicants with existing or planned research work in Washington's high country, especially related to the high lake environment will be given additional preference.
Born in 1949 and raised in the Spokane area, Bob Pfeifer graduated from Eastern Washington State College and went on to graduate school at the University of Washington. He began working for the Washington State Game Department in 1972 as a habitat biologist. In 1978 he became District Fish Biologist for the greater Seattle area. Although Bob was responsible for both inland and anadromous fish in his district, he had a particular passion for high lakes. He vowed to survey and produce reports and management plans for all the high lakes capable of supporting fish in his district. Even after he retired he continued to pursue that quest and in 2010 he delivered nine heavy 3-ring binders to WDFW that covered 390 lakes in meticulous detail. By the time he retired from the agency in 1999 it had become known as the Washington Department of Fish and Wildlife (WDFW).
After retiring from WDFW, Bob joined the fishery consulting firm Parametrix. One of his primary motivations was to produce a report for WDFW documenting the entire WDFW high lakes fishery management program. It was completed in 2001 so we can say that Bob literally wrote the book on high lake fishing in Washington http://wdfw.wa.gov/publications/01131/. While pursuing this endeavor, Bob joined the Trail Blazers where he was an active member from 1999-2008 and 2010-2013. In 2001 he became club Treasurer and worked through the officer chairs until serving as club President in 2004. He was the High Lakes Maintenance Chairperson for two years and served on the scholarship committee. He was also passionate about visiting and restoring historic fire lookouts.
Bob was an inspiration to all he encountered; he never cut corners or did anything by half measures, whether it was work, play, or listening to his beloved jazz. The high lake fisheries and countless people will continue to benefit from his efforts in years to come.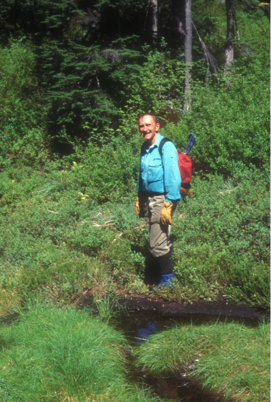 Henry Mills returned to Seattle in 1989 and joined the Trail Blazers after a career in the Air Force. Henry enjoyed leaving the designated trail and disappearing into the woods and brush to peace and quiet where he could fish in a remote Cascade Mountain lake. Henry, with his treasured Ray Jardine ultralight backpack, had high lake stocking down to a science. Some of Henry's favorite places were the Dollar Lakes, Mason Ridge area lakes, Myrtle Lake Potholes and the Tank Lakes, with their extraordinary mountain views.
Henry also enjoyed what he called "high altitude tourism" and made trips to climb Aconcagua in Argentina where his upbeat personality kept his partners spirits up in spite of hurricane force winds and freezing temperatures. In Tanzania, his determination to reach the 19,308ft Kilimanjaro summit, even when near collapse, was an inspiration to his partners. Henry made his last trip to Tank Lakes when he was 70 years old. As they temporarily parted ways to stock different lakes, his companions fondly remember Henry smiling with gratitude for the beautiful day as he continued alone across rough country.
Download the application: 2017 Scholarship Application